Highlights of BIS M-4008-048-0xx-ST4.
The BIS M-4008 compact processor is a component of the BIDS M identification system. Within this system it is used for linking to a higher-level computer (PLC, PC). It may be used only for this purpose in an industrial environment corresponding to Class A of the EMC Law.
This description applies to compact processor units of the following series:
– BIS M-4008-048-001-ST4
– BIS M-4008-048-002-ST4
The BIS M Identification System is classified as a non-contacting system with read and write function. This allows it to convey information programmed permanently in the data carrier, but also to collect and pass on current information.
The main components of the BIS M identification system are:
– Compact processor,
– Data carrier.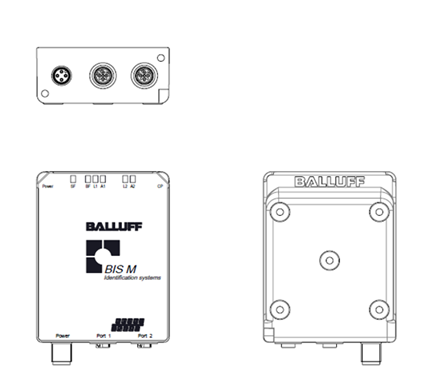 Figure: System overview
PROFINET Port 1 Status LEDs
PROFINET Port 2 Mounting Hole
Power IN Sensing Surface
The main areas of application are:
– In production for controlling material flow (e.g. for model-specific processes, conveying
systems that transport workpieces, acquisition of safety-related data),
– transporting and conveying.
Compact processor BIS M-4008 consists of:
– Metal housing
– Round connector terminations
– Power for the data carrier provided by the compact processor via carrier signal
– 2 × PROFINET IO port
– Control displays
– Webserver for diagnostics and service functions.