UHF RFID Standard: ISO and EPC
As far as UHF RFID standards go, the protocols that the tags and readers use to communicate can be described as the air interface protocol.
The two primary ones that you hear about are the EPC standard and the ISO/IEC 18000-6C standard.
The International Organization for Standardization (ISO) and EPC global.
ISO is a voluntary organization whose members are recognized standard authorities, each one representing one country. The bulk of the work of ISO is done by the various technical committees, subcommittees and working groups.
As to RFID issues, ISO represents global interests and has been involved with different RFID technologies for many years. The ISO' 18000 series standards encompass all different RFID frequencies (Low frequency, High frequency to Ultra High frequency).
To date, the greatest efforts have been directed at the ultrahigh-frequency band.
Delays in developing widely accepted standards are partly due to restrictions in different regions of the world. ISO's work in the 860 MHz to 956 MHz UHF band resulted in ISO 18000-6, a standard that defines parameters for air interface and communications.
EPC global is a non-profit organization developing commercial, world-wide RFID standards and is a major force in the RFID market. It is widely supported by the consumer packaging industry. Joint venture between EAN International which standardized barcodes in Europe and the Uniform Code Council (UCC) which standardized Universal Product Code (UPC) barcodes in the US.
EPC global is responsible for defining specifications for all aspects of RFID technology including standardization. The EPC global protocols assume the tag carries a unique identifier, the electronic product code (EPC).
EPC global's mission started with the vision to identify every item with a unique electronic product code (EPC). The plan is to have a global network implemented making every item visible throughout the supply chain.
EPC global efforts are primarily focused on the ultra-high frequency (UHF) band.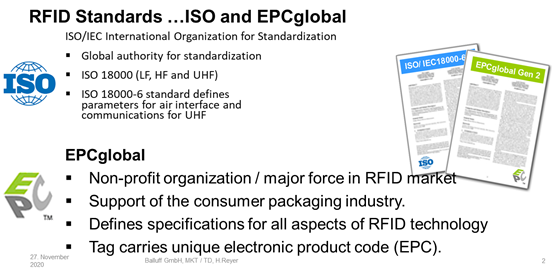 The 18000-6 standard details the parameters for how interrogators send and receive data from UHF tags. It also specifies the frequencies and channels to be used, as well as bandwidth, maximum effective isotropic radiated power (EIRP), and other technical details.
The International Standards Organization (ISO) has made EPCglobal's UHF Gen 2 air-interface protocol a part of its ISO/IEC 18000-6 standard.
The UHF Class 1 Generation 2 UHF Air Interface Protocol Standard "Gen 2" commonly known as the "Gen 2" standard, defines the physical and logical requirements for a passive-backscatter, Interrogator-talks-first (ITF), radio-frequency identification (RFID) system operating in the 860 MHz - 960 MHz frequency range.
The system comprises Interrogators (also known as Readers), and Tags (also known as Labels). The Gen 2 (ISO 18000-6C) standard was designed based on performance requirements and other input from the end-user community, including retailers and consumer-goods manufacturers.
It is meant to enable supply-chain trading partners to encode data to and interrogate EPCs from passive UHF tags in a similar manner, so that they might share an interoperable interrogation and software infrastructure.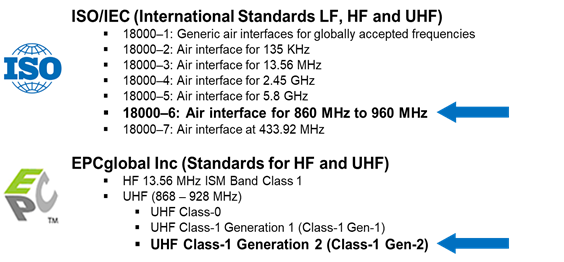 Learn more about Balluff RFID system