UHF frequency ranges and power regulation globally
The radio frequency RF-Spectrum is a scarce and shared resource.
It is used nationally and internationally, and subject to a wide range of regulatory oversight.
Unfortunately, countries have not agreed on a single area of the UHF spectrum for RFID so that it has led to various frequencies and power levels.
The RFID UHF frequency bands vary between 860 MHz and 960 MHz according to frequency restrictions in different countries.
This diagram provides an overview of most of the Ultra High Frequency (UHF) regulations and the maximum power available to RFID Applications worldwide.
The European Continent, Northern Africa and the United Arab Emirates have all adapted UHF RFID Frequency standard 865.6- 867.6 MHz and power a regulation of 2 W EIRP.
North America i.e. the USA, Canada, Central America i.e. Mexico, Panama, Dominican Republic and Puerto Rico and also the South American continent i.e Brasil, Peru, Argentina, Colombia all use the UHF RFID Frequency Standard 902-928 MHz with a power regulation of 4 W EIRP.
The Mideast region, Australia, New Zealand and Asia vary.
The current regulatory status of UHF regulations worldwide is available for download on the EPC global site on the internet.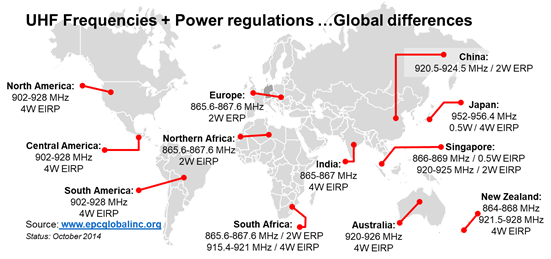 Learn more about Balluff RFID system