Balluff's Robotic Tool Changer solution
When robotic integrators need to have changeable tooling for their applications, they often turn to ATI Industrial Automation for the robust connection between tool and arm. ATI's couplers pass pneumatic and electrical signals across the coupling allowing for precise automation on the end-effectors. When they needed to integrate IO-Link as a control communication into their Heavy Automation Robotic Tool Changer, they turned to Balluff for integration advice.
By integrating the 16 point configurable I/O universal IO-Link adapter, they were able to monitor Locked, Unlocked and Ready-To-Lock (RTL) sensors as well as communicate the Latch and Unlatch of the Tool Changer. The adapter also provides a tool identification to be reported with up to 10 separate unique tool identifiers.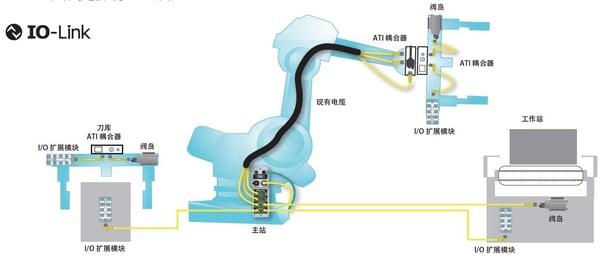 Benefits of using the ATI/Balluff Solution:
■ Bi-directional IO-Link Communication
■ Coupler is equipped with (4) IO-Link or standard I/O pass-through ports.
■ Tool-ID is reported through the IO-Link coupler control
■ IO-Link allows for a faultless network when de-coupling
■ TSI (Tool Stand Interlock) prevents uncoupling of the tooling when not safely nested in the Tool Stand.
■ IO-Link control provides connection to many industrial networks

Learn more about Balluff's Robotic Tool Changer solution