Four-port Profibus modules
Balluff offers the BNI004n master station module with four IO-link ports: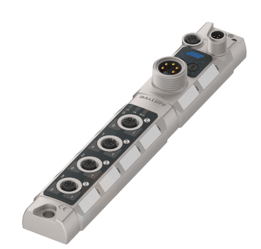 It can be used in small spaces as it is strong and compact.

Profibus IO-link master is your best choice for applications with limited space and risks of dust, water, oil or mechanical damage. The small junction box with a strong metal case is extremely durable.

With its small size and versatility, the IO-link Profibus master is well suited for sensors that support IO-link, such as pressure sensors or distance sensors. Sensor hubs, operation panels or actuators (valve block units) can also be connected if required. For small master stations, we can provide compact, connector cast small plugs for perfect connection:

The Profibus IO-link master provides two or four IO-link interfaces, which means that users can use the IO-link sensor hub to connect up to 68 sensors:

Unused IO-link ports can be used as standard input or output ports: This way, the system can also be fully utilized in limited space.