Auto focus
The transmitter and receiver share the same lens. The light emitted from the emitter passes through the splitter and lens to the reflector.
The reflector reflects the emitted light back to the lens. In this way, a small circular beam can be obtained by using a secular switch with an auto-collimation.
Other advantages: no blind area in scanning, no blind area in reflector, better detection of small parts, no influence of light direction on switch characteristics.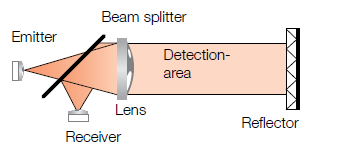 Learn more about Balluff's photoelectric switch auto focus