Nomenclature of Balluff's Data Carrier part number
Below is the explanation for the Part number or codes used for Data Carrier,
BIS Δ-?xx-YY/z
Where the characters as placeholders for:
Δ = describe the family C, L or M
? = 1 Data carrier read/write type
? = 2 Data carrier read only type
xx = shape
YY = Memory size (depending on the family)
z = L (air coil) or A (core coil)
For each family C, L or M this 'YY' Type takes on a different nomenclature.
For BIS C …
| | | | |
| --- | --- | --- | --- |
| Type | Memory Size | Page Size | Memory Type |
| 04 | 511 bytes | 32 | EEPROM |
| 05 | 1023 bytes | 32 | EEPROM |
| 11 | 2047 bytes | 64 | EEPROM |
| 32 | 8192 bytes | 64 | FRAM |
For BIS VM or M …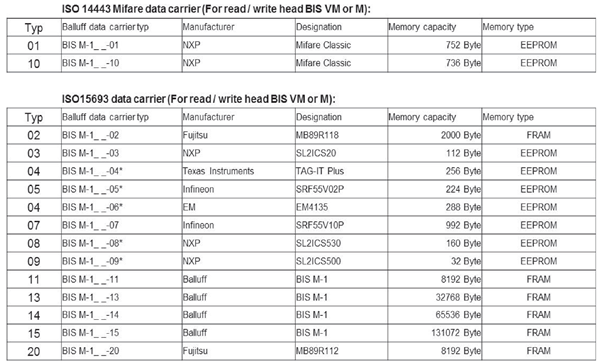 For BIS VL or L … (all are EEPROM)

For BIS U the structure of the code changes as below …