Ultrasonic sensors
Whether for position detection, distance detection or detection of powdery and fluid media – our ultrasonic sensors are precise all-rounders. They measure fill levels, heights and sag without making contact as well as count and monitor the presence of objects.
These universal sensors work regardless of color or surface composition and are unaffected by transparent objects with strong reflection. Fog, dust and impurities are also not a problem for them. Their high resolution and small blind zones guarantee the highest precision. Since they offer a generous detection range, they also work reliably at greater object distances.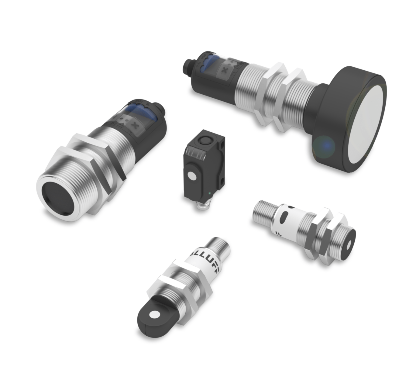 Ultrasonic sensors from Balluff are available as switching or analog output types. Depending on the output signal you can either reliably detect and count objects or determine distances
with high precision. These sensors therefore have versatile uses.
The most important benefits:
Contact-less detection
Reliable in critical environmental conditions such as fog, dust and impurities
Irrespective of color, transparency, reflection properties and surface finish on the object
Precise detection of even smaller objects
Rectangular and cylindrical heads allow for greater freedom of design
Can be used as normally open or normally closed – various output functions